2021 AGM and Awards Luncheon
We are very excited to announce the agenda for the 2021 RCABC Annual General Meeting and award luncheon! Be sure to register now for this exciting event.
ANNUAL GENERAL MEETING KEYNOTE – THE CHANGING NATURE OF THE ROOFING INDUSTRY!
Steven W. Peck, GRP, Honorary ASLA has worked on sustainable community development for more than 35 years initially as a policy consultant to government and over the last twenty years as the founder and president of Green Roofs for Healthy Cities, and the Co-Founder of the charitable Green Infrastructure Foundation, and the World Green Infrastructure Network. He has edited and published the quarterly www.livingarchitecturemonitor.com magazine for twenty years, written several books on green roofs and walls, and delivered keynote addresses and papers around the world all emphasizing the importance of investing in living technologies in, on and around our buildings. He is the father of the green roof industry in North America having lead the development of the Green Roof Professional (GRP) training and accreditation and having advocated for green roof policy establishment in cities like Washington DC, Toronto, Chicago, New York, Denver, San Francisco and Portland. He has recently overseen the completion and piloting of the Living Architecture Performance Tool, a performance-based rating system for green roofs and walls that can be used by designers, policy makers and manufacturers to improve product performance. See www.greeninfrastructurefoundation.org to download a free copy.
Please note that If you do not have the time or inclination to travel, the AGM will be streamed so that you can attend virtually. We encourage everyone to participate.
AWARDS LUNCHEON KEYNOTE – COREY HIRSCH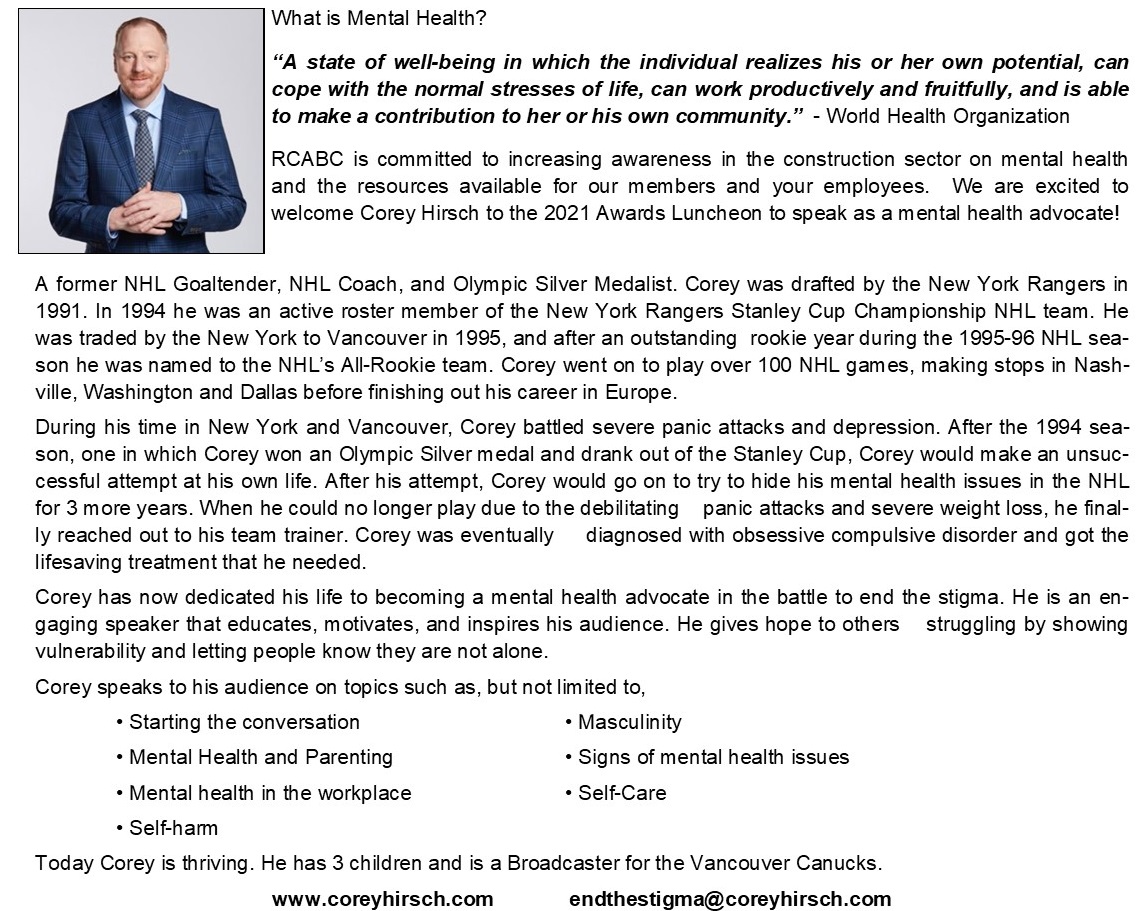 EVENT REGISTRATION
IN-PERSON REGISTRATION
The AGM is a closed, Members Only event, however, guests are invited to attend the Awards Luncheon. We are still working on the program but there will be entertainment at the luncheon for all in attendance! Please be sure to register with the correct number as tickets will be required at the door for the luncheon.
VIRTUAL ATTENDANCE
RCABC is pleased to offer the opportunity for members to attend the Annual General Meeting virtually. Be sure to register with your name and email address and a link will be sent to you in advance of the meeting.
HOTEL INFORMATION – ROOM RATE AND BLOCK ARE ONLY AVAILABLE UNTIL NOVEMBER 15TH SO BOOK YOUR ROOM NOW!
This year, the AGM and Awards luncheon is once again being held at the beautiful J.W. Marriott Parq Vancouver. With Western Canada's majestic mountaintops as its backdrop, JW Marriott Parq Vancouver delivers a luxury hotel experience unlike any other. Rooms and suites at our waterfront hotel, showcase incredible city, ocean and mountain vistas. There's a distinct sense of place with its understated luxury and impeccable service, but there's no mistaking you're in beautiful British Columbia. Replenish your spirit in our modern accommodation, relax at the spectacular Spa by JW or enjoy a workout in the 24-hour fitness center.
The RCABC room rate is an unbelievable $205.00 a night and we encourage you to come for the AGM and Luncheon and make a weekend of it.
EVENTS IN AND AROUND VANCOUVER THAT WEEKEND
If you are looking to stay downtown for the weekend here are a few of the great events happening around town! Come for the RCABC events and stay for a bit of holiday fun!
If you have any questions or require additional information please contact Renea Koppen at rkoppen@rcabc.org or call 604-882-3439.