August 23, 2023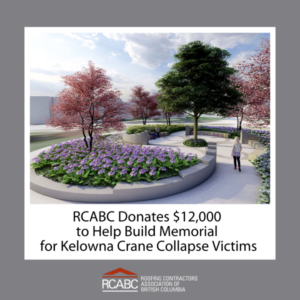 To honour the five victims who lost their lives in a 2021 crane accident and show support for a roofing industry colleague whose son was killed in the incident, RCABC donated $12,000 to help build the memorial that's being constructed at Knowles Heritage Park in Kelowna.
On July 12, 2021, Cailen Vilness, Eric and Patrick Stemmer, Jared Zook and Brad Zawislak were killed when a crane that was being dismantled collapsed at a Kelowna high-rise.
Chris Vilness, the father of 23-year-old Cailen Vilness, runs a roofing company in Kitimat and is a longtime partner in BC's construction industry. He's thankful for the community support:
"Cailen had a heart of gold and his presence is missed every day. Our family is grateful for the support we have received from our roofing colleagues and hope the memorial will provide some peace to family and friends as we continue to cope with this devastating loss."
RCABC Members were proud to support one of our own as he dealt with the tragic loss of his son and help create a legacy for the young men who lost their lives. We hope the memorial will be a place for families to come together and serve as a reminder of the importance of safety in our communities.
The Rise Memorial will include dedicated areas for each family to grieve and remember their loved ones, but organizers hope it will provide solace to anyone who has lost a loved one in a workplace accident.
Donate to the Rise Memorial fund: https://uwbc.ca/campaign/crane-memorial/