Consumers
March 25, 2020
In response to all governments' increasing calls to limit non-essential interactions, RCABC will close its office effective 4:30 p.m. Wednesday March 25, 2020. I am updating you directly, these changes will be posted on RCABC's website on March 25th.
We appreciate this decision affects several services your company may count on. Therefore, I want to provide you with the following updates:
Guarantee Certificates – Guarantee Certificates will be delivered first electronically, then followed up with a paper copy once the office reopens.
Roof Performance Reports (Re-Inspections) – Reports will be held for mail out after the office re-opens, electronic copies are available upon request to guarantees@rcabc.org
For further clarity:
Currently, all RCABC Contractors are working under the new Guidelines issued by the Health Ministry and RCABC is working with an OH&S consultant to provide members with a Site Safety Assessment tool that references the new guidelines. Contractors are doing their best to attend job-sites and complete work.
__________________________________________________________________________________________________________________________________________________________________
Everything you ever wanted to know about roofing – and probably a few things you don't.
Here at RCABC we've worked hard over the past 50 plus years to become the definitive source for professionals within the roofing industry. However, we're also here for consumers looking to educate themselves on what goes into proper roofing design, installation and repair.
With that in mind, we've compiled a guide that provides some of this background information as well as useful advice on how to select a roofing services provider here in BC.
Consumer Guide to Roofing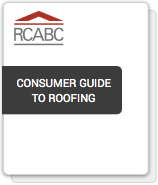 This guide includes information reprinted from the RCABC Roofing Practices Manual and other publications including those used by the RCABC Education & Training department during the training of roofing and architectural sheet metal apprentices and journey persons for the province of BC.